John Jones
Jump to navigation
Jump to search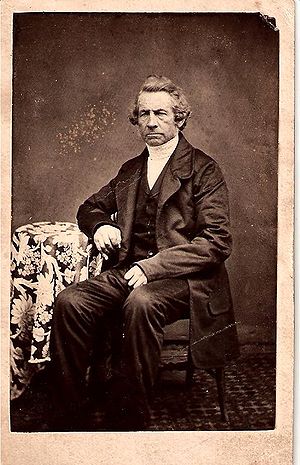 Spouse 1

Mary (family)
Bef. 1825
Spouse 2

25 Feb 1835
Llandaff, Glamorgan, Wales, United Kingdom
Data
Birth

Abt. Sep 1791
Penrhos, Monmouthshire, Wales

Baptism

25 Sep 1791
Penrhos, Monmouthshire, Wales

Death

24 Jan 1879
Caldicot, Monmouthshire, Wales

Burial

Saint Mary's, Caldicot, Monmouthshire, Wales
Notes
Occupation was as a maltster.
Father's Name
John's first son's name is recorded as "Merrick", which is and English form of "Maurice".
Presumably, he was named after John's father who we have here, currently as "Meyric". This matches well with Welsh variations of "Maurice". Known Welsh variations are "Meuric" and "Meurig". Jones is a very English surname, but the family was living in Wales, so it's hard to know what to make of all this, especially considering how free people used to be with their spelling. Anyhow, the main purpose of this note is to make spelling issues clear so that searches for Meyric can be made more effective.
Sources
Register of Baptisms, Parish of St. Mary, Caldicot, Monmouthshire, Wales

From records made by Susan Valetta Cox when she visited Wales.
From the book- Sword and Ploughshare by Thos. T Birbeck (history of Caldicot) pg 117

"The Malt House, in Chepstow Road, near the Cross, was held by John Jones, as licensee from 1852 to 1861"
ISBN 0-900278-15-3
The Chepstow Society
41 Hardwick Avenue
Chepstow, NP6 SDS
"Wales, Marriage Bonds, 1650-1900," database, FamilySearch (https://familysearch.org/ark:/61903/1:1:QGK5-2HBD : 3 September 2019), John Jones and Sarah Langdon, 25 Feb 1835; citing Marriage, Llandaff, Glamorgan, Wales, United Kingdom, National Library of Wales, Aberystwyth.
Census Records
1851 Census - Wales, Monmouthshire, Caldicot

Lists John's birth place as Penrhos, Monmouth, Wales; Sarah from Bishop Syred, Somerset, England
John Jones (51) Maltster, Sarah Jones (45), Sarah Jones (13), Elizabeth Jones (11)-scholar, Maryann Jones (8)(simple in census indicates she is a scholar too)
1861 Census - Wales, Monmouthshire, Caldicot (District 2 page 5)

Where is daughter Sarah - she shows up again 10 years later, could she be working somewhere? Wife Sarah's birth place is listed as Bishops Lydeard, Somerset, England
John Jones (68) Maltster & Grocer(?), Sarah Jones (55), Elizabeth Jones (21)Dressmaker
1871 Census - Caldicot, Monmouthshire, Wales

John Jones (78) (Landowner of 4 acres), Sarah Jones 33, Elizabeth Jones (31), Ann Edwards (15)-Domestic Servant